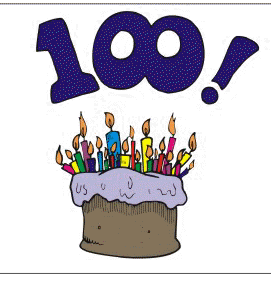 Wow. You are reading my100th blog post!
Yep, I've been blogging for just over a year now, so that means that I'm posting a whopping average of just under twice a week.
Though I post about all about communication,  I have written most about conflict skills, gratitude and appreciation, improving listening skills and, of course, my dogs.
I got to thinking about why I started blogging and, more importantly, why I continue to blog. So I came up with my Top 10 Reasons.
Top 10 Reasons I blog:
10.  It helps me procrastinate when I should be doing other more productive things.
9.    I gotta believe that someday someone outside of my family members will actually read it.
8.    I can use bad grammar or punctuation and no one sends it back marked in red.
7.    I get to come up with creative ways to tell cute stories about my dogs and call it communication.
6.    My husband said it wouldn't last more than a week.
5.    I feel really cool and hip when I tell people that I have a blog.
4.    I look busy.
3.   I can say things to people like, "I'm going to blog about that."  And, then, I blog about that.
2.   I can do it in my bunny slippers, at midnight, or even naked if I want.
And, the number one reason I continue to blog is….
1. I really do believe I can make a difference by helping people communicate better!
And, if you aren't in my immediate family and are reading this, please leave a comment and let me know!
____________________________________
Betty Lochner is the Owner of Cornerstone Coaching & Training. She specializes in personal and organizational transformation and is the author of  Dancing with Strangers: Communication skills for transforming your life at work and at home.
To find out more about Cornerstone's services and offerings visit our website:
To subscribe to my monthly e-newsletter, Click here
Please "like" my Facebook fan page and stay in touch!